A picturesque slice of historical architecture on the landscape, castles have always fascinated me. From fairy-tale features to meandering moats and tall towers, Scotland is filled with these beautiful buildings! I've visited a number of areas in Scotland, and a hell of a lot of castles along the way, but these are seven of the best you just have to stick on your list.
7. Edinburgh Castle
At the bottom of my list sits Edinburgh Castle, because, well, its probably the most famous. I have a real soft spot for it, and although I never really go any further than the entrance any more, I do think it's a castle that should be visited at least once and admired from the bottom of the hill a thousand times. It looms over Edinburgh with grand majesty, looking as if it were carved out of the rock in which it sits.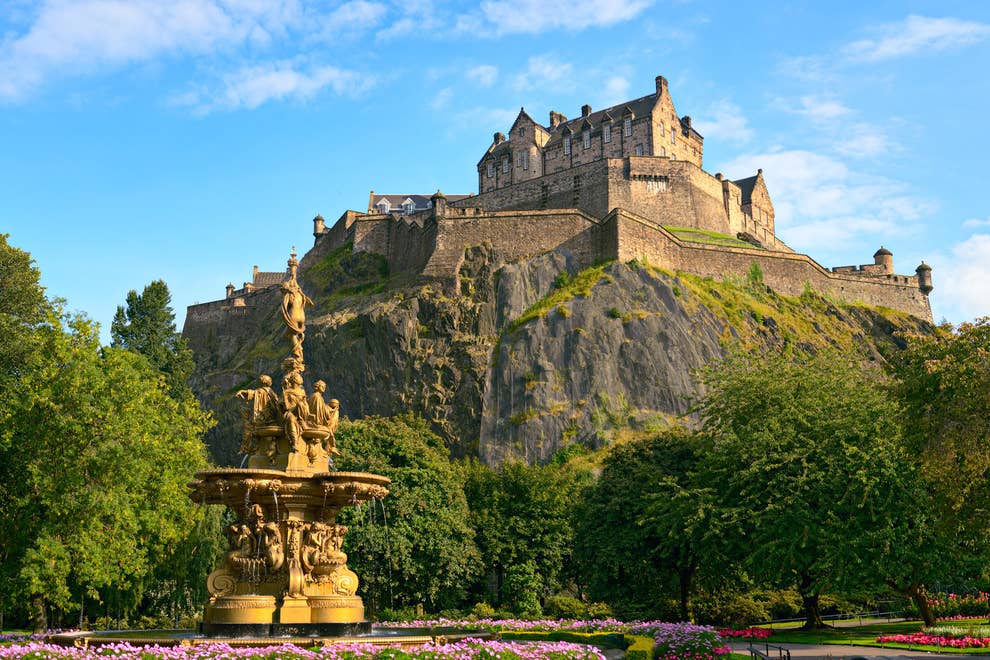 No-one really knows exactly how long that rock has been occupied, but they believe it dates back to the Iron Age. Either way, the 11th-century castle is quite charming, and has some fabulous views of the city too.

Cost: A visit to Edinburgh Castle will set you back almost £20 (which is a little pricey IMO, but do it! ).
6. Kilchurn Castle
Sitting at the edge of Loch Awe in Dalmally is Kilchurn Castle, a ruin with bags of charm. Dating back to the 15th century, this structure sits on a piece of land that juts out, so the loch almost acts as a makeshift moat.
Here's some fab historic context: the castle (a five-storey tower house) was built by Sir Colin Campbell, just before his death in 1475. Other elements were added too – his son Duncan (the second lord) added a lower hall and later the sixth lord (also called Colin, duh) added four turrets on top of the tower house. So this castle has really been a group effort in terms of design ya'see. The castle was left abandoned in the 1700s, but it still stands in most of its glory for you today, in a really peaceful setting.
Cost: Free!
5. Urquhart Castle, Loch Ness
I'm just going to put it out there and be controversial, and say Loch Ness, although famous, really isn't the hive of a tourist spot you think it is. I tried to avoid it a few times for fear I would be bombarded by shops selling stuffed green snakes in tartan berets. I mean, there is that to an extent, but Loch Ness is BEAUTIFUL. And you know what's just as good as Loch Ness? Urquhart Castle.
This ruined castle dating back to the 1500s has over 1,000 years worth of history waiting to be told. The visitor centre has some great information and artefacts, and you can also climb Grant Tower for stunning views over the loch. The castle can be reached by car, or if you're looking for an epic entrance, take a boat ride of Loch Ness and have the castle as one of your stops.
Cost: It's around £12 for an adult ticket.
4. Eilean Donan Castle
Eilean Donan Castle had been on my must-see visit for so long, as it's a perfect pit stop if you're driving to Skye. Built on a small tidal island where three lochs meet, it's probably one of the most recognisable castles due to its picturesque nature and majestic backdrop – yeah that's right, you've probably spotted it on shortbread tins before you stuffed your face, or plastered over a postcard.
Its strategic placement meant that a number of castles were built on the same land (today the fourth version stands!), the spot being first settled on in 634CE, and the first castle being built in the 13th century. Over the centuries the castle has been knocked down and built back up for a lot of reasons that are unknown, which is interesting in itself!
Wander round the grounds and admire the various architecture that makes up this fascinating castle, and if you're lucky, you might spot some of the surrounding wildlife – I'm talking porpoises, dolphins, otters and birdlife.
Cost: Entrance is around £10, but this includes an audio guide.
3. Castle Kennedy Gardens
Situated in the south-west near Stranraer, Castle Kennedy is a 16th-century ruin nestled in the 75-acre tranquil loch-side landscape. Although the castle itself is rather small, another majestic castle sits on the grounds: Lochinch. Built in 1864, it's now in residence so there isn't access, but damn it's pretty to look at.
The surroundings are the real highlight however – discover rare and exotic plants, spot birds and picnic on the grass. It's all pretty stunning.
Cost: price varies (but it's worth it I can assure ya)
2. Dunnotar Castle
Aberdeenshire has my heart. There, I said it. I feel like Aberdeen is the underdog of Scottish cities – it has so much to offer but a lot of people like to focus on Edinburgh and Glasgow. What blows me away though, is the Aberdeen countryside and it's castles – and that's why my top two are both in Aberdeen! Dunnotar is a DREAM.
A craggy castle ruin that sits majestically on rocky headland, it oozes romance and mystery in equal measure. Was that too dramatic? I. don't. care. I LOVE THIS CASTLE! What survives of the structure dates back to the 15th and 16th centuries, but the land has been occupied since the fourth century. It's totally free to approach the castle, and walk to various viewpoints on the cliff – I do really recommend visiting near sunset, you won't regret it.
Cost: It's around £7 for an adult ticket.
1. Craigievar Castle
Sitting proudly at number one is the bubblegum pink dream that is, Craigievar Castle. Said to be the inspiration behind Walt Disney's Cinderella Castle, it was built in 1626, and remained a family home until the 1960s so a visit means you'll see a blend of artefacts and homely antiquities. It's compact and cute but what it lacks in size it makes up for in magical charm.
You can view the interior of the castle via guided tour, and explore the surrounding woodland trails too. It really is one of the most breathtaking castles in Scotland.
Cost: Between April and September, you can take a tour for £15.
PIN ME: